Tephra is a Draenei Shaman on the Alliance Faction of Moon Guard US. Played by user Fannie.
Ursula

Race

Draenei

Class

Affiliation(s)

Earthen Ring, the Exodar

Profession

Toxicology

Height

6' 2"

Weight

Who knows?

Alignment

Birthplace

Who knows?

Age

Who knows?
Basic Biography
Edit
Full Title: Spirit-Speaker Ursula, Hermit
Relatives: No living relatives.
History: Ursula remembers little of her past. She remembers Draenor very well, but before that is quite hazy. She can recall Argus, however, and knows she is very old even by draenei standards.
After having been injured and disconnected for her company, <Modan Co>, Ursula made her way back to the Exodar and has stayed there for over three months. She recently listened in on a gathering group of draenei patriots and joined a group called <The Crystal Aegis>.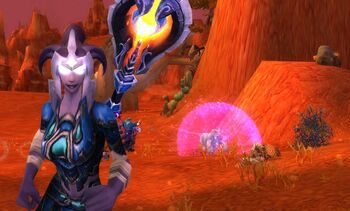 Physical Description
Edit
Ursula carries herself with an odd, worried stance that seems to anticipate something popping up and scaring her at any second. She is either in thick robes or heavy, heavy leathers. The draenei adores baubles of all kinds, many different horns and teeth bound into her clothes.
Her horns are twisted downward, and her hair is usually held up in an intricate fashion when she is not on an expedition. She carries her totems on her back.
Ad blocker interference detected!
Wikia is a free-to-use site that makes money from advertising. We have a modified experience for viewers using ad blockers

Wikia is not accessible if you've made further modifications. Remove the custom ad blocker rule(s) and the page will load as expected.