Little Twizty Togglewrench

Class

Death Knight

Race

Gnome

Faction

Alliance

Professions

Enchanter and Blacksmith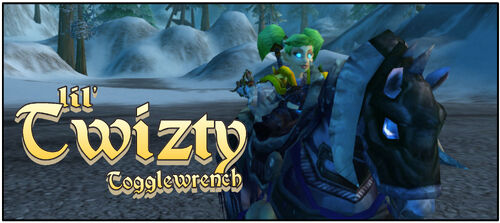 Character
Edit
"Little" Twizty Togglewrench.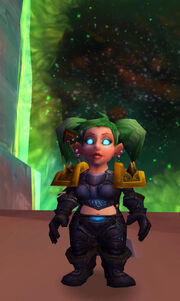 ---
I also play
Main:

Twizty, Gnomish Death Knight

Retired 80s
Alts

Twizty is currently my levelling-main. She is duel spec: Blood dps / Blood tank. I'm really enjoying the blood-builds for dks. Blizz has done an excellent job balancing the dk trees, so that each can be built for dps or tank, depending on where talent points are allocated. It makes for a very fun play experience, imho.
IC History
Edit
---
Lil' Twizty Togglewrench's story is one of tragedy.

At the dawn of the third war, lil' Twizty was on leave from the military to attend a festival in the human Kingdom of Lordaron. She was last seen cheerful skipping towards Stratholme...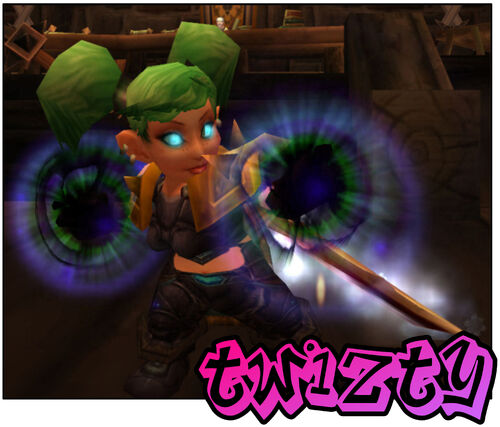 IC Current
Edit
---
Recently dark and twisted tales has begun to surface regarding this previously-cheerful little gnome. Children speak in hushed tones of dark eyes and green pigtails at their windows, but when they open the window they find nothing by darkness and a thin layer of frost on the glass.
With the Ebon Blade's betrayal of the Scourge, and partnership with the Alliance, many heroes once-thought-dead have returned to fill the ranks. Among these came lil' Twizty.
Ad blocker interference detected!
Wikia is a free-to-use site that makes money from advertising. We have a modified experience for viewers using ad blockers

Wikia is not accessible if you've made further modifications. Remove the custom ad blocker rule(s) and the page will load as expected.