Twist "Smash" Vastage

Class

Warrior

Race

Draenei

Faction

Alliance

Professions

Alchemist and Herbalist
Character
Edit
Twist "Smash" Vastage, Warrior of the Exodar.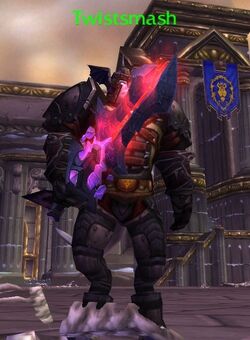 ---
I also play
Twizty, rp-leveling Gnome Death Knight
Devilisa, pvp boomkin
Twistsmash, rp-pvp warrior
Nexxoroth, rp-Scarlet Crusade Paladin
Twist is currently used as a bank/auction house mule mostly.  Sometimes I use him for WG or dailys.
IC History
Edit
---
Unwritten... open to suggestions :)
IC Current
Edit
---
In the works.
Ad blocker interference detected!
Wikia is a free-to-use site that makes money from advertising. We have a modified experience for viewers using ad blockers

Wikia is not accessible if you've made further modifications. Remove the custom ad blocker rule(s) and the page will load as expected.