Nexxoroth

Class

Paladin

Race

Human

Faction

Alliance

Professions

Inscriber and Herbalist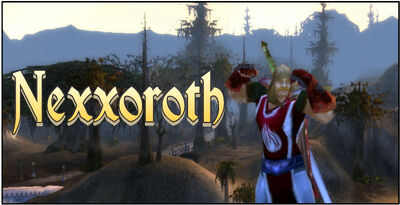 Character
Edit
Sir Nexxoroth VonBaine, Paladin of the Scarlet March.
I also play
Twizty, rp-leveling Gnome Death Knight
Devilisa, pvp boomkin
Twistsmash, rp-pvp warrior
Nexxoroth, rp-Scarlet Crusade Paladin
IC History
Edit
Nexx is a grizzled and disgruntled veteran of the third war.
After years away on campaign, battling the undead forces at every turn, Nexxoroth was mortally wounded on the battlefield. As he was being dragged from the field, coughing up blood and his last gasps of life, the warrior was miraculously healed by a paladin. The power of the light brought him back from deaths door and set him on a new path.
After monthes of healing under the watchful eye of Dr. VanHowzen, Nexxoroth left Theramore and journeyed south to the Tanaris Desert. Here he met a General of the Scarlet March, and together they braved the horrors of Zul Far'rak
IC Current
Edit
Sir Nexxoroth is currently journeying to western Lordaron, where he left his family to watch over his farm while he went to war. What awaits his return home? tbc...
Ad blocker interference detected!
Wikia is a free-to-use site that makes money from advertising. We have a modified experience for viewers using ad blockers

Wikia is not accessible if you've made further modifications. Remove the custom ad blocker rule(s) and the page will load as expected.