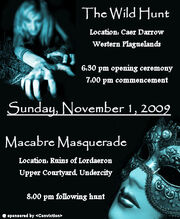 In celebration of our fallen, missing, and dearly departed brothers and sisters of the Horde, <Conviction> wishes to invite you to the Macabre Masquerade and Wild Hunt to commemorate the Day of the Dead and Hallows End festival.
Join us for feasting, festivities, dancing, story telling, a costume contest, trade faire, and much more!
To kick of the Masquerade Ball, we will be hosting a hunt over the Western Plaguelands for sacrificial game to honor our fallen. We will gather one and one-half hour prior to the festivities in Undercity on the island of Caer Darrow to seek out the craftiest of predators known to our kind...

Anyone is welcome to participate in the event, though it's recommended to be at least of the 70th season to not have to deal too much with the native inhabitants of the area, let alone the surprises which may occur.
(( Please note all times listed are in server (Central) time. ))
(( The Wild Hunt is a RP-PvP event - flagging is required to participate. The Masquerade is -not- PvP.  More details for both closer to time. ))
Ad blocker interference detected!
Wikia is a free-to-use site that makes money from advertising. We have a modified experience for viewers using ad blockers

Wikia is not accessible if you've made further modifications. Remove the custom ad blocker rule(s) and the page will load as expected.