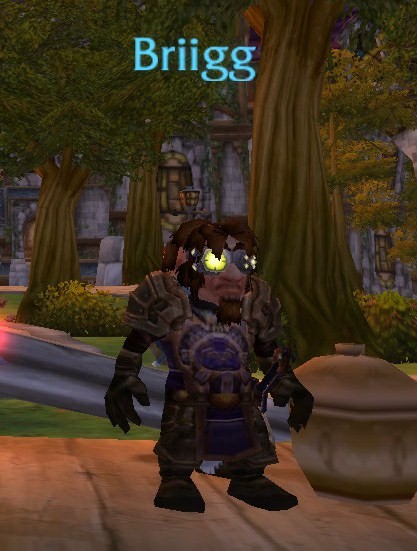 Briigg

Class

Warrior

Race

Gnome

Faction

Alliance

Professions

Goblin Engineering and Mining
Brigg was the first character I've had in my many years in WoW. I made him originally because I loved the concept of engineering in WoW. However, over time he has developed into my favorite little guy. Currently PvP prot... and oh how I love it.
The story of not only Brigg Cindersproket but also of Synoria Moon Rain, his wife, can be found in this machinima series:http://www.wegame.com/watch/Flowers_and_Fuses_A_Tale_of_Two_Worlds_Introduction_2_0/ I apologize ahead of time for the font size issue.
IC Current
Edit
After having twins with Synoria, Brigg laid back into an easy going lifestyle. He continued his trade of pyrotechnics, and continued his work with the goblin towns over Azeroth. But something wasn't right. He would have nightmares about his lost family in Gnomeregan. He could still hear their cries of help and terror. He couldn't take it anymore. He had to find the truth. Picking up his arms once more, Brigg began working with the Gnomeregan Exiles to find a way to take back their home once more. Not stopping there, Brigg has rallied warriors and champions from all corners of the Alliance to create a collective security. No more homes will fall to anything or anyone again.
Ad blocker interference detected!
Wikia is a free-to-use site that makes money from advertising. We have a modified experience for viewers using ad blockers

Wikia is not accessible if you've made further modifications. Remove the custom ad blocker rule(s) and the page will load as expected.